We love our dogs– as our best friends, family members, guardians, and all around solid companions. At Revolution K9, we believe that every dog has a unique canine personality that creates a just as unique bond with their person or family. We offer highly ethical, results-driven dog training + coaching with unmatched integrity and devotion based in southeastern Wyoming and servicing the Surrounding Area! Industry leading, balanced attention-reward based training methods are scientifically proven to create reliable, lifetime understanding in the canine mind. Our Mission is to revolutionize you and your dog's Quality of Life!
Ready to start improving life with your dog? Step One is scheduling a Consultation to first evaluate your dog, consult with you about training options and recommendations, and provide immediate relief for pressing dog problems or goals.
Lost Dog Tracking (Cheyenne area Only Currently)
Top Notch On/Off Leash Obedience
Canicross, Bikejoring, Dryland Mushing
GO TEAM Therapy Dog Training
Sport Dog Foundations – Protection, Hunt & Obedience
Yes! We are CURRENTLY ACCEPTING NEW CLIENTS
All breeds, problems and goals are welcome to train with us!
Quick Look at Fall 2020 Training
Consultations take 80 minutes, at your home or our facilities, and include our evaluation notes, recommendations and homework you can use to start achieving your goals! Contact Us 307.823.3155 call / text to schedule your inclusive and thorough consultation! Phone/Video Consultations also available- just ask!
Now Booking Stay & Train Students
Only (1) ONE Canine Student at any Time to ensure maximum quality education, home-like care, and top notch comfort. Stays start at 2 weeks, commonly at 3 weeks for as many weeks as you would like!
Now Scheduling Lesson Programs
Lesson Programs are spaced 10-14 days apart, with homework and weekly check-ins. Students are eligible for advanced group classes after completion of Lesson Programs or Stay & Train programs.
Group Classes
No Entry Level Classes Currently Offered
Advanced Off Leash Challenge Class (Eight Week Class)
This class is only open to those Off Leash Trained Students who meet the skill-level requirements through evaluation at Consultation, have completed a Stay & Train Off Leash Program or Lesson Program
(proper e-collar training is required, non-negotiable)
Advanced ON Leash Challenge Class (Six Week Class)
This class is only open to those who meet the skill-level requirements through evaluation at Consultation, or have completed a Lesson Program or a Stay & Train on-leash Program
(proper leash skills and appropriate collar required, non-negotiable)
Motivational Obedience, Sport Foundation, Working Puppy Imprinting, Swimming, Canicross, Bikejoring
Contact Trainer Victoria for more information on Specialties Training options
Personalized Private Lesson Programs (and One-on-One events when available) are for those who want to be hands-on all the way through the training process! Lessons are taught in-home, in-facility or off-site as needed.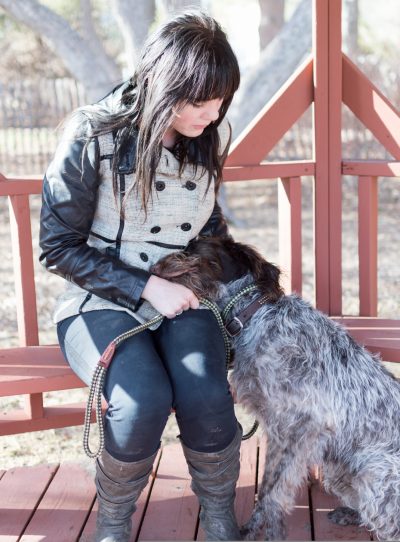 Immersive Stay and Train Programs, for YOUR Best Dog! Located on 40 scenic acres Northwest of Cheyenne, your pup experiences a fun and relaxing education stay-cation! Urban Field Trips for Socialization, Hiking and Trails are just some of the perks!
Seminars, Classes, One-on-Ones, and Events are offered throughout the year. See our Schedule above or call/text/email for more information!