We love our dogs– as our best friends, family members, guardians, and all around solid companions. At Revolution K9, we believe that every dog has a unique canine personality that creates a just as unique bond with their person or family. We offer highly ethical, results-driven dog training in Cheyenne, Wyoming with unmatched integrity and devotion, servicing the Surrounding Area. Utilizing reward-based, empathy-inspired and scientifically proven training methods we help you establish everlasting success!
Ready to start improving life with your dog? Step One is scheduling a Consultation to first evaluate your dog, consult with you about training options and recommendations, and provide immediate relief for pressing dog problems or goals.
Yes! We are CURRENTLY ACCEPTING NEW CLIENTS
-Booking Pauses are Seasonal-
All breeds, problems and goals are welcome to train with us!
Is your dog driving you crazy? Not coming when called? Shredding and destroying? Chasing the chickens? We can help you fix all of those things!
Dog Reactivity & Aggression, Human Reactivity & Aggression, Anxiety & Fearful Behaviors, Behavior Modification, Happy Puppy and Adult Foundations
We have (several extensive) experience with:
Belgian Malinois/Dutch Shepherds, German Shepherd Dogs, Drahtaar/German Wire-haired Pointers, Great Pyrenees/Anatolians/Gampr/Akbash/Maremma, Doodles/Poodles, Australian Shepherds, English/Irish Setters, Golden Retrievers, Labrador Retrievers, Bull Terriers, Wheaten Terriers, Jagdterriers, Rat Terriers, American Pit Bull Terriers/Staffordshire/American Bully, Black Russian Terriers, Giant Schnauzers, Chihuahuas, Pomeranians, American Eskimo, Pugs, Basenji, Dachshunds, Dobermans, Bernese Mountain Dogs, English/French Bulldogs, Maltese, Alaskan Malamutes, Siberian Husky, Klee Kai, Coonhounds, Ibizan Hound, Borzoi, Australian Cattle Dogs (Heelers/Queensland), Whippets, Borzoi, American & English Working Cocker Spaniels, Cavalier King Charles Spaniels, English Springer Spaniels, Border Terriers, Saint Bernards, Newfoundlands, Cairn Terriers, Chesapeake Bay Retrievers, Rottweilers
+
Rescue and Shelter Dogs, Mixed or Breed Specific. See About Trainer Victoria for more information!
ASK US ABOUT DOG SPORTS!
Precise On/Off Leash Obedience
for your family's outdoor adventures and active lifestyle!
Canicross, Bikejoring, Dryland Mushing
A wildly fun, casual or competitive team activity for the whole family!
GO TEAM Therapy Dog Training
Proudly serving as Wyoming's Regional Coordinator for The GO TEAM Therapy Dogs, Inc.
Sport Dog Foundations- Protection, Tracking & Competitive Obedience
For the casual or competitive dog lover seeking to maximize their dog's genetic potential!
Shed Hunting & Nosework
A great way to (usefully) work your dog's brain in an exhaustive, genetically appropriate way!
Private Lessons & Day Training Programs are for those who want to be hands-on all or most of the way through the training process! Lessons are taught in-home, in-facility or off-site as needed. Day Training is a flexible option tailored to your schedule with a lesson for you to maintain what your pup is learning. This is a great alternative to those who can't bear sending their fur-kids away from home, but still want high quality results.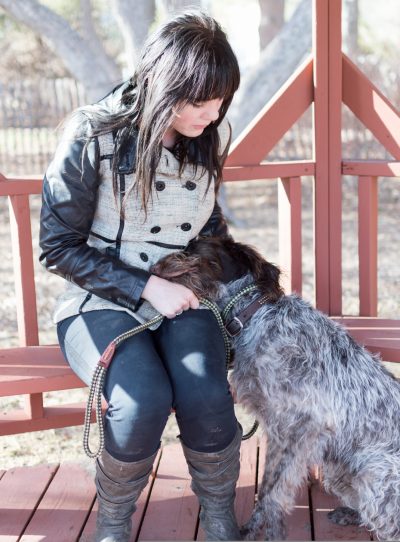 Immersive Stay and Train Programs, for YOUR Best Trained Dog in Cheyenne! Located west of Cheyenne, with 1000 acres of public land privately accessed from our property. Your pup experiences a safe, fun and relaxing education stay-cation! Urban Field Trips for Socialization, Hiking and Trails are just some of the perks. Your dog is treated exactly as if they are my own beloved family member- you won't find a more devoted and capable trainer.
Canine Enrichment provides your homebody buddy with exciting adventures, friends, and hardcore Dog Mom-level love and care. Examples can include hiking, safe swimming, public shopping trips (pick your own toy and treats!), expert managed play groups, and other personalized enrichment experiences. Basic & Specialty Veterinary Appointments & Handling, Grooming Appointments & Handling, and Holistic Nutritional Counseling are also provided at Owner's request.